Link-u is specialized in the development of mobile applications and has been one of the first in Switzerland to follow on the progress of J2ME. Since the beginning of 2002, Link-u has been creating prototypes of mobile multimedia applications that immediately found a positive echo among several aggregators in the main markets: USA/Canada, Europe, Asia.

Moreover Link-u has acquired a great experience and technical mastership while creating, for swiss and international customers, high quality connected mobile applications leveraging and bringing together several technologies (see list below). As a leader on the swiss market, Link-u is facing high demand from numerous swiss and international companies because it is able to prove its know-how through its catalog of applications currently on sale.

For your businness, as it has been for others, Link-u is the solution for a fast, quality development, based on real experience of mobile products, be it a PDA or a Java phone.


Some examples of applications already created by Link-u mobile:


Application printing tickets from a Palm PDA with GPRS connection to acquire and process data from a distant server. Can be used to sell prepaid phone cards or various paid content.


Stock management on Palm and PocketPC including support for a barcode reader. Stock application with connection to a database.


In the mainstream area, in addition to numerous top-quality entertainment software titles, distributed in many countries, Link-u has created the GOSMS application. It allows everyone to send cheaper SMS and use real-time chat from his/her mobile phone thanks to a groundbreaking unique mobile Java application. It works on most of the phones in the current market (midp 1.0 and midp 2.0). The application has been praised for its simplicity of use although it leverages the latest technologies available today. This application uses a data (GPRS) connection to reach a gateway developed for it.


We are able to supply complete solutions from back-office, webservice, data proxy up to the realisation of fully-featured mobile applications. This will allow you to reach your data while keeping mobile.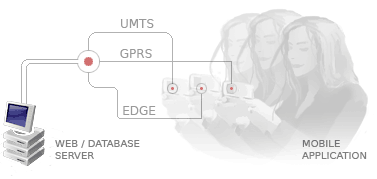 Contact Link-U for all your needs in Consulting and/or Development with the following technologies:
Multiplatform applications for both PocketPC (Windows CE) and PalmOS.


BlackBerry Applications.


J2ME (Java 2 Micro Edition) applications on standard mobile phones, MIDP 1.0 and MIDP 2.0 with experience and support for constructor-specific APIs: Nokia, SonyEricsson, Samsung, Siemens, Sharp, SprintPCS.


Symbian OS, Series 60 Platform (SonyEricsson P800/P900, Siemens SX1, Nokia Series 60).


Connectivity to a J2EE or PHP server via GPRS, UMTS connection.


Management and automated creation of WAP Push messages for easy application deployment and configuring connectivity settings.


Sending and receiving SMS messages through a gateway from connected applications. Additional navigation through dynamic XHTML and/or WML.